EXHIBITIONS
Revolution is not a Garden Party
03.02.07 - 27.02.07

Revolution is not a Garden Party is an international exhibition that pays tribute to the revolutionary spirit of the Hungarian Uprising in 1956.
The exhibition considers the resonances of social and political revolution in contemporary art and participating artists include Michael Blum, Nick Crowe, Igor Grubic, Sanja Ivekovic, Gergely László / Péter Rákosi, Nils Norman and Adrian Paci.
Curated by Maja and Reuben Fowkes, the exhibition consists of new and recent works that examine the global economic and political context against which revolutions take place. It also looks at the intersection between personal and artistic heritages of revolution.
It expresses the sorrow of failed political struggles in the past and future, and considers the shared experience of a communist past and the post-communist reality. Other concerns include the experience of revolutionary literature, the gendered images of resistance fighters in contemporary media, and the legacy of 1956 for the relationship of art and revolution.
www.translocal.org/revolution
A programme of side events will accompany the exhibition, including the SocialEast Seminar on Art and Revolution, which is organised by MIRIAD Manchester Metropolitan University and held at Manchester Art Gallery on 3rd February 2007.
www.socialeast.org
A catalogue for this exhibition is available which includes commissioned essays by art theorists Gerald Raunig, Benda Hofmeyer, Simon Sheikh and Chus Martinez. Please contact Cornerhouse, Manchester for copies. www.cornerhouse.org/books
The exhibition is supported by: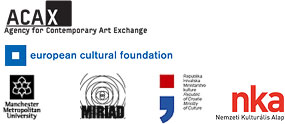 MIRIAD, Faculty of Art & Design, Manchester Metropolitan University
European Cultural Foundation
Hungarian Ministry of Culture
Croatian Ministry of Culture
Agency for Contemporary Art Exchange