EXHIBITIONS
The John Ruskin Prize 2019: Agent of Change
Shortlist Exhibition
12.07.19 - 24.08.19
Open Wednesday - Saturday 12 noon - 6pm
Thursdays late opening until 7pm
"What we think, or what we know, or what we believe is, in the end, of little consequence. The only consequence is what we do." - John Ruskin
Opening in July at The Holden Gallery, featuring work selected from over 1260 entries (over 3000 artworks), The 5th John Ruskin Prize shortlist exhibition 'Agent of Change' will display challenging work by the selected 41 prize finalists. In response to a nationwide open call, entrants this year entered work responding to the theme: Agent of Change.
The exhibition is free and open to all and continues until 24 August 2019.
Read more about the 2019 Prize Finalists
Private View & Prize Giving
To attend the Private View and Prize Giving to be held on Thursday 11 July at 6.30 - 8.30pm please RSVP here.
Prizes to be announced and presented: 1st Prize £3000, 2nd Prize £1000, Student Prize £1000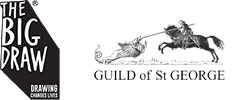 18.07.19
Drawing Democracy: The Art of Observation and its Power to affect Change
Informal talk and curator led exhibition tour